Welcome to the website of the Holland KOI Show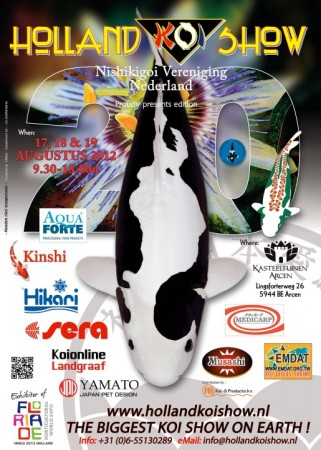 21th Holland Koi show 2013

The Nishikigoi Vereniging Nederland (the Dutch Nishikigoi Association) traditionally organizes the Holland Koi Show For these days, known as the biggest koi spectacle in the world, the association organizes the annual Holland Koi Show. On the 16th, 17th and 18th of August 2013, koi enthusiasts and dealers from all over the world can exhibit their koi to a large public visiting the show.
Years of experience has inspired great confidence of numerous top koi dealers and enthusiasts who trust us with their koi during the days of the show.
In its 20 years of existence the event has become the single most important koi exhibition in all of Europe. During the Dutch Koi Days you can learn about the most advanced techniques in pond keeping and admire some spectacularly beautiful fish. Japan is the cradle of koi, but its culture also offers other phenomena for you to enjoy during the Koi show, such as Bonsai, Japanese sword fighting and Japanese archery, which makes for a very diverse program of the show. Of course the show also pays a lot of attention to the entire koi commerce; there will be over a 150 stands with a great variety of offers such as koi, complete ponds, pond magazines or koi paintings.
The Dutch Koi Show is known world wide as the largest koi show regarding size and number of visitors.
The Netherlands is becoming a koi country of growing importance that brings forth many innovations in the koi hobby, something the Nikishigoi Vereniging Nederland is naturally very proud of!If you are a true koi enthusiast you wouldn't want to miss out on the Dutch Koi Days, even more so because of the amazingly beautiful gardens of the castle in Arcen where it all takes place. All the information about this event can be found on this website.
---